The 'law crystallizes in stages': Jean-Christophe Bédard-Rubin
Nexus/Fall 2022
By Nina Haikara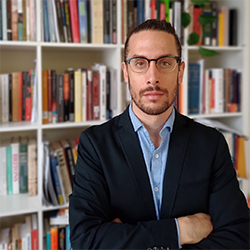 What does the next 40 years hold for the Canadian Charter of Rights and Freedoms? 
"It's an interesting question," says Jean-Christophe Bédard-Rubin (LLM 2016), a newly appointed assistant professor, who joined the University of Toronto's Faculty of Law earlier this term.
"It's also a difficult question, but probably technology will change many things. My guess is that artificial intelligence – and all kinds of questions related to the use of social media – will become more and more salient going forward." 
Bédard-Rubin's research explores Canadian constitutional culture from historical and comparative perspectives. At the University of Alberta's Centre for Constitutional Studies, where Bédard-Rubin is also a research affiliate, he gave a presentation addressing concerns that Canada's adoption of the Charter would result in 'Americanization' of constitutional rights and litigation. He says American constitutional culture makes litigation about rights more existential, in terms of defining who citizens are as Americans. On the other hand, Charter rights here in Canada influence the way we do politics and make legislative decisions but are not seen as defining the Canadian polity as much. 
"The convergence that was feared around 1980 did not materialize. There is much more openness for constitutional change in Canada. The constitution is still an ongoing project, and the Charter is one part of it. There are some elements that still need to be adjusted or adapted instead of being fitted into a fixed framework," he says.
"One distinctive feature [of our constitution] is that our main rights instrument was adopted at a moment when we [as a country] had lived together already for a long time."
Among Bédard-Rubin's research projects is bilingualism in the justice system, and he is planning to write a book about the subject. He says whether judges of the Supreme Court of Canada ought to be bilingual has been an issue of debate over the past decade. When the Charter was adopted 40 years ago, only three of its justices could speak French fluently. 
"There's very little empirical or historical work that's been done on judicial bilingualism and what bilingualism requires exactly. Should judges only be able to compare two versions a single statutory provision to interpret it or be able to draft in both official languages? What does legal reasoning require?" he asks. 
"For example, if the English version of a provision of the Criminal Code is ambiguous, but the French version is very clear, does it make sense to say that the French version will be binding on a unilingual Anglophone defendant? To be a law-abiding citizen, should one have known that this was the correct interpretation of the specific code provision? Does that make sense? 
"Part of my work in that area is trying to unearth the different dimensions that are at play in specific contexts, and to show how multifaceted the problem of legal bilingualism sometimes is," he adds.
Bédard-Rubin began his Doctor of Juridical Science (SJD) at U of T Law in 2017. He was a McMurty Fellow of the Osgoode Society for Canadian Legal History and a Joseph-Armand Bombardier Scholar. He is also part of a growing cohort who have been appointed to faculty positions, ahead of their doctoral defense, with his own to take place sometime next term. 
"Ten U of T Law doctoral students got into tenure-track faculty positions last year. That's very good. I think that universities know this. They want to hire us before we get hired elsewhere." 
Bédard-Rubin also practised law before completing his master's, also at U of T. He returned to practise for another year before starting his doctoral studies. 
"It was an exciting time to do labour law litigation on behalf of the Quebec government. Some big cases on freedom of association came out and required deep rethinking of the constitutional validity of the legislative framework governing public sector employees."
From Bédard-Rubin's perspective, his litigation experience aligns well with his teaching as a new professor.
"There's something like litigation in teaching. It's like appearing before 18 judges, every week," he says.
Bédard-Rubin currently teaches a small group section of constitutional law for first-year JD students.
"Teaching is a lot of fun – and it's a similar kind of performance. The material, which is never as neatly organized as it is made to be in the classroom, can be presented in many different ways. One's presentation style is thus always a form of argument in favour of a specific way of making sense of it." 
Bédard-Rubin's doctoral dissertation is on the intellectual history of French-Canadian public law. 
"My dissertation ends with what some have called the 'Laval School of Public Law'.  Many professors at Laval, where I obtained my first law degree, had done their graduate studies in France in the 1970s and 1980s. They brought back a very French or continental understanding of public law organized around the idea of the state," he says. 
"That generation, which was the generation that taught me, was instrumental in articulating a very different understanding of the foundations of public law [in Quebec compared to Canada]. It's interesting to critically reflect on what I've been taught now that I am teaching myself."
A second forthcoming book by Bédard-Rubin will explore the intellectual foundations of public law, connecting roughly 150 years of French-Canadian history.
"There are cultural influences coming from France but articulated in British constitutional idiom. Part of the story is, is it possible to use British constitutional law in a way that is informed by French social or philosophical thought? Is something lost in translation?" 
With an academic background that encompasses law, political science and philosophy, Bédard-Rubin describes this research area as intellectual history, at the intersection of legal and social history. 
"I focus on the history of ideas, and on the people articulating the theoretical foundations of the constitutional order, which always tackles the question of the possible justifications for an order of public power. It can tell us something about our own condition today because law crystallizes in stages."