Donors endow the Michael J. Trebilcock Law & Economics program at U of T Law
Celebrating 50 years of the Law & Economics
By Nina Haikara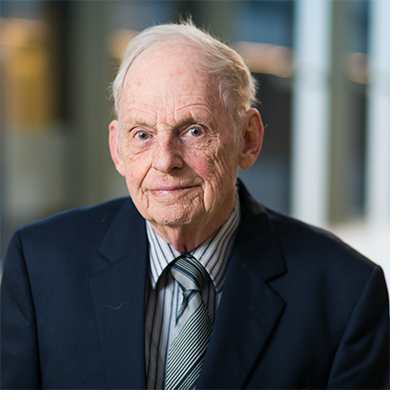 The University of Toronto Faculty of Law is known for its interdisciplinary approaches to the study of law and has built one of the leading global centres for research in law and economics. This has been spearheaded by the research of Michael J. Trebilcock whose specializations in law and economics include international trade law, competition law, economic and social regulation, and contract law and theory.
To recognize his contributions to the field and mark his retirement Jan. 1, 2021, after nearly 50 years of scholarship and teaching, alumni, family, friends and colleagues donated more than $1.9-million to name the Faculty's Law and Economics program, Law and Economics chair, and the Falconer Hall solarium, in his honour.
"Michael is undoubtedly one of the faculty's most prominent scholars. [He] continues to be celebrated across the academy for his scholarly work, inspiring teaching, graduate student mentoring and his university-wide citizenship and overall dedication to the profession," said University Professor and Dean Jutta Brunnée, the James Marshall Tory Dean's Chair, at the virtual event held May 29.
The Honourable Frank Iacobucci, Dean Emeritus of the Faculty, added, "Michael's academic curiosity, led him to take risks of investment in learning and study much more about economics and other disciplines he believed were important in fully understanding not only law but also more enlightened societal policy choices."
Trebilcock graduated with an LLB from the University of Canterbury in New Zealand in 1962 and completed his LLM at the University of Adelaide in 1965. He joined U of T Law in 1972 and by 1990 was appointed to the rank of University Professor, an "elite designation bestowed on a small number of U of T faculty members for distinguished scholarly achievement and pre-eminence in their fields."
Trebilcock's many awards and honours include election to Fellow of the Royal Society of Canada (RSC) in 1987 and designation to Honorary Foreign Fellow of the American Academy of Arts and Sciences (AAAS) in 1999. In 2007, he was the recipient of the Ontario Attorney General's Mundell Medal for his contributions to great legal writing. He was awarded the Canada Council Molson Prize in the Humanities and Social Sciences, the Ontario Premier's Discovery Award for the Social Sciences and has received an Honorary Doctorate in Laws from McGill University and the Law Society of Ontario (LSO).
He is the author of the prize-winning The Common Law of Restraint of Trade and The Limits of Freedom of Contract and Dealing with Losers: The Political Economy of Policy Transitions. He has co-authored The Regulation of International Trade; Exploring the Domain of Accident Law: Taking the Facts Seriously; The Making of the Mosaic: A History of Canadian Immigration Policy; Economic Shocks: Defining a Role for Government; The Law and Economics of Canadian Competition Policy; and Rule of Law Reform and Development: Charting the Fragile Path of Progress.
As part of the virtual celebration, Professor Albert Yoon, who holds the Michael J. Trebilcock Chair in Law and Economics, participated in a fireside chat with Trebilcock about the past, present and future of the program.
Trebilcock said in terms of future projects, he's examining trade issues he finds intractable which have impacts not only in economics, but political and institutional spheres, as well as international law.
He said one issue, especially in light of COVID-19, is how to get vaccines both produced and distributed across the world. How do we prevent countries from hoarding vaccines? How do we prevent restricting exports, not only of vaccines, but key inputs? And how do we disseminate the technology more broadly across more countries?
Dean Emeritus Ronald J. Daniels (LLB 1986), president of John Hopkins University, gave closing remarks, sharing why he and his spouse, Joanne Rosen, chose to designate their gift to the Falconer Hall solarium naming, "as a place tied to human capital.
"Michael exemplifies, as many have said, in such a vivid and dramatic manner, the best of the many gifted people who populate the collegium… This room, we hope, in the years to come will inspire those who follow in your footsteps to honour, embrace and emulate the example you have given to us and to them."
Photo top: Falconer Hall solarium portrait of Michael J. Trebilcock by Canadian artist Joanne Tod (photo by the Faculty of Law)